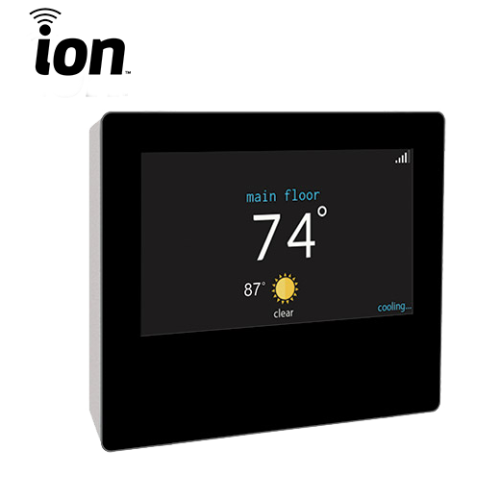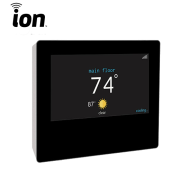 SYST0101CW
Ion™ System control
Don't call it a thermostat -- mere thermostats simply don't offer all of the features and functionality of the Ion™ System Control. Offering full command over a communicating comfort system, including temperature, humidity, ventilation, comfort scheduling, energy management and more, this is our most fully-featured control. Anywhere in the connected world, you are just a touch or a tap away from full system control with an internet-enabled device.



High resolution, smartphone-like touchscreen
Wi-Fi® enabled for remote access and control
Pair with our communicating, modulating gas furnace; variable-speed fan coil; inverter-driven outdoor units; and zoning system for a complete Ion™ Comfort System
Capable of controlling temperatures and fan speeds in up to eight zones
Real-time energy use tracking
Local weather 5-day forecast
Humidity control for enhanced comfort
Dual fuel system management capable
Auto changeover between heating and cooling
Four levels of "constant ON" fan speeds
7-day programming with temperature control throughout the day and week (wake, away, home, sleep)
Advanced smart setback for optimal energy savings during "away" and ramp up periods
One-button Touch-N-Go® quick-settings-change feature
Simple vacation programming controls temperature and humidity
System maintenance reminders
10-Year No Hassle Replacement™ Limited Warranty+
10-year parts limited warranty±
Advanced Wi-Fi® remote access touchscreen control
System Maintenance Reminders
Zoning capable for up to 8 zones
Our best comfort managing control
10-Year No Hassle Replacement™ Warranty
Dual Fuel System Management
10-Year Parts Limited Warranty
Auto change between heating and cooling
Compatible with OhmConnect
OhmConnect is a free service currently in
California
,
New York
and
Texas
that helps residents save energy and money. But in Texas, OhmConnect is also an electricity provider offering fixed rates, no catch. In 2022, OhmConnect paid their members $5 million dollars in cash and rewards for simply making energy conscious decisions in their home. 
Texas residents, learn more here:
http://ohmconnect.com/txairquest
New York & California resident, learn more here:
http://ohmconnect.com/airquest